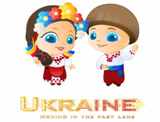 Ukraine On The Way. Slightly more than six months before the launch of Euro 2012, the Ukrainian government is implementing a programme aimed at "boosting the country's image abroad". So far, a huge country located between Russia and the EU, Ukraine has remained an island of relative inactivity.
What associations accompany Ukraine today? The Kyiv Post ranked 10 replies reflecting common knowledge of Ukraine: nothing, a nuclear disaster (Chernobyl), the Soviet past and the present, part of Russia, a diet of vodka and lard, beautiful women and sex-tour advertisements (ideal women or money-grubbing online brides and prostitutes), sports, the Orange Revolution, a breadbasket and of course, Timoshenko and her hairdo[1].
To date, the local elites have had no time to focus on national branding due to the country's political climate. The vicious circle "no-promotion-worldwide-because-everything-is-so-bad" needs to be overcome and more effective efforts need to raise awareness of Ukraine and communicate the positive changes taking place.
Building up the national brand should be initiated by the country's citizens. Unfortunately, over 80% of the respondents in a Research & Branding Group poll stated that their life had deteriorated since regaining independence. In other opinion polls, the respondents blame politicians, businessmen and criminals for their negative influence on the citizens' lives[2]. According to a survey conducted by the Institute of Sociology of the Ukrainian National Academy of Sciences[3], in 1998 a majority of Ukrainians (60%) believed "it was impossible to bear such hardships" while in 2011 a majority (53%) said that "it was hard to live but it was possible to put up with such life". At the same time, people have less hope for the future: in 2011 only 39% of the surveyed showed optimism. Most Ukrainians define these days as an era of thieves, swindlers (48%), state-mongers (44%) and beggars (40%). Over the last 20 years, the Ukrainian society has retained a state of demoralization and destabilization. 13% of the respondents say that things are not improving at all. Ukraine is also one of the most corrupted countries in the world. According to Transparency International, in 2011 Ukraine was ranked 152nd among 178 countries with a score of 2.3[4]. The country's image is that of a politically unstable state: it is regarded to have been the key factor against doing business in Ukraine presented in The Global Competitiveness Report 2011-2012 by the World Economic Forum. In this Index, Ukraine ranked 89th among 131 countries[5], an equal of Burundi and Cameroon. Ukraine's biggest challenges is corruption, tax regulations, access to financing and sluggish government bureaucracy. The Country Brand Index ranked Ukraine as far as the 105th among 131 countries in 2011-2012[6]. All the efforts toward "Euro-integration" are undermined; to an average European, the country remains "terra incognita".
Read full article by Veronika Grishel, assistant at Best Place – European Place Marketing Institute
——————————————————————————–
[1] Panova K. and et., For many in the world, knowledge of Ukraine still poor, Kiev Post, August 19, 2011.
[2] Tuchynska S., Ukrainians debate on their identity as the nation marks 20th year, Kiev Post, August 19, 2011.
[3] Most Ukrainians dissatisfied with their lives. Informational Agency Uнiaн, 12.01.2012.
[4] http://cpi.transparency.org/cpi2011/results/
[5] http://reports.weforum.org/global-competitiveness-2011-2012/
[6] http://www.futurebrand.com/wp-content/uploads/2011/11/2011_2012_FB_CBI_ENG.pdf